Hotel Sorriso
Hotel 3 Stars Numana (Marche)
Hotel 3 Stars Numana (Marche)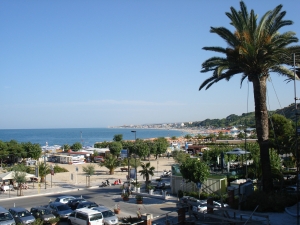 Via Flaminia, 109 - 60026 (AN)
Numana, Marche
Phone number:
071 9330645
Set in the Conero Riviera, in Numana, with a pretty relax garden.
All 38 rooms are air conditioned and many with balcony overlooking either the sea or the hotel garden. They also have TV, telephone, hairdryer, safe and electronic access.
Situated at 50 meters far from the beach, with elevator, TV room, electronic access by night and Wi-Fi for free.
Beach and restaurants discounted.
Free parking in the neighborhood
More information
Conero park for nature, Loreto for Holy House Church, Recanati for poet Leopardi museum house, Osimo for chueches and palaces, Castelfidardo for accordeon museum.
Information and tips
Holiday destinations in the area:
Riviera del Conero
Recommended for a holiday:
Nature, Seaside, Thermae
Adventure sports in the area:
Windsurf
Distances as the crow flies:
Loreto (7 Km), Porto Recanati (8 Km), Recanati (12 Km), Ancona (14 Km), Civitanova Marche (24 Km), Macerata (26 Km), Porto Sant'Elpidio (29 Km), Jesi (30 Km), Sant'Elpidio a Mare (31 Km), Porto San Giorgio (38 Km), Fermo (39 Km), Senigallia (39 Km), Cupra Marittima (56 Km), Grottammare (60 Km), Fano (61 Km), San Benedetto del Tronto (65 Km), Pesaro (72 Km), Ascoli Piceno (72 Km), Urbino (82 Km)
Negli ultimi 30 giorni 79 viaggiatori hanno visualizzato questa pagina.