Agriturismo La Rocca dei Briganti
Farm holiday Artena (Lazio)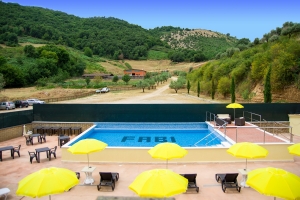 via fontana nuova - 00031 (RM)
Artena, Lazio
La Rocca dei Briganti farmhouse was founded in 2012, located in the Artena countryside near Valmontone (Rome), Rainbow Magicland and the Valmontone Outlet; surrounded by woods and hills, completely immersed in nature, precisely in the middle of the Lepini Mountains. Our estate with more than 90 hectares of land boasts several farms, that of cattle, horses, sheep, hens, chickens, rabbits, geese, pheasants, etc .. in particular is that of the "Limousine" cattle a native breed of the Central Massif French.
The structure of recent construction, consists of two dining rooms, one used for receptions such as weddings, baptisms, anniversaries, events, etc., the other used for any other event with the brazier in sight.
In addition, the structure is also equipped with 14 hotel rooms, with a maximum capacity of 40 beds, all rooms are furnished with the best comfort; advantageous packages in formulas: Bed and Brekfast, Half Board and Full Board.
In the restaurant you can enjoy all the goodness of our products, with the highest standards of checks and ensuring the genuineness of our dishes. The meat, vegetables, norcineria products and hand-made pasta according to the typical local tradition, are products that arrive on your dishes directly from our farm "Fabi", all at km 0. Finally, the tasting of excellent dessert, all accompanied by good wine from our cellar.
Recently in the structure they have been inaugurated
2 swimming pools: an outdoor pool and an indoor pool heated to 34 ° C with various whirlpool paths: hydromassage sessions, cervical waterfall, counter-current swimming, chromotherapy, etc .. in which you can spend pleasant days enjoying the wonderful landscape from the inside of the swimming pool.
Rates *
| | |
| --- | --- |
| Prices per person: | MIN 29,00 € / MAX 39,00 € |
| | |
| --- | --- |
| Price double room: | MIN 49,00 € / MAX 69,00 € |
| | |
| --- | --- |
| Price per week: | MIN 290,00 € / MAX 349,00 € |
* Rates are indicative and are subject to change without notice. Always ask for confirmation to the accommodation.
Information and tips
Distances as the crow flies:
Nepi (76 Km), Orte (94 Km)
Negli ultimi 30 giorni 36 viaggiatori hanno visualizzato questa pagina.