Villa Sensi
Bed and Breakfast Tuoro sul Trasimeno (Umbria)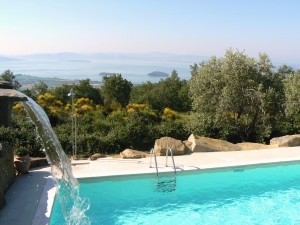 Loc. Parco di Monte Castelluccio, 15 - 06069 (PG)
Tuoro sul Trasimeno, Umbria
Phone number:
075 8254124
B&B Villa Sensi is set in Monte Castelluccio natural reserve, right on the border of Tuscany and Umbria.
It is close to Cortona with a spectacular view of Lake Trasimeno and its surrounding hills.
All no-smoking double/triple rooms are tastefully decorated and feature private bathrooms, air con, free Wi-Fi internet access, complimentary tea and coffee, hairdryer and toiletries. Guest can relax and enjoy the breathtaking view of the Lake and the countryside.
They can soak up the sun after a swim in the outdoor swimming pool.
The enchanting and unspoiled Monte Castelluccio is perfect for walks, trekking and mountain bike itineraries.
Villa sensi is a privileged base for exploring Tuscany and Umbria with their magnificent historical and artistic towns.
Rates *
| | |
| --- | --- |
| Prices per person: | MIN 35,00 € / MAX 45,00 € |
| | |
| --- | --- |
| Price double room: | MIN 70,00 € / MAX 90,00 € |
| | |
| --- | --- |
| Price per week: | MIN 245,00 € / MAX 315,00 € |
* Rates are indicative and are subject to change without notice. Always ask for confirmation to the accommodation.
How to reach us
Villa Sensi is set in Monte Castelluccio narural reserve, right on the border of Tuscany and Umbria, a few km from Lake Trasimeno and beautiful Cortona.
It can be easily reached by car (25 Km from the highway A1 exit Valdichiana), by train (10 Km from Terontola-Cortona railway station) or by plane (40 Km from Perugia-S.Egidio airport). Transfer from/to train station/airport available upon request.
Information and tips
Holiday destinations in the area:
Trasimeno Lake
Recommended for a holiday:
Lake, Nature, Villages
Adventure sports in the area:
Sailing, Trekking, Rafting, Paragliding, Mountain Bike, Horse riding
Distances as the crow flies:
Tuoro sul Trasimeno (2 Km), Passignano sul Trasimeno (5 Km), Corciano (19 Km), Perugia (27 Km), Città di Castello (28 Km), Torgiano (36 Km), Gubbio (42 Km), Assisi (46 Km), Spello (54 Km), Todi (56 Km), Orvieto (57 Km), Montefalco (59 Km), Foligno (60 Km), Trevi (66 Km), Spoleto (75 Km), Lugnano in Teverina (75 Km), San Gemini (78 Km), Amelia (79 Km), Narni (87 Km), Terni (87 Km)
Negli ultimi 30 giorni 46 viaggiatori hanno visualizzato questa pagina.