B&B Paoetta
Bed and Breakfast Porto Sant'Elpidio (Marche)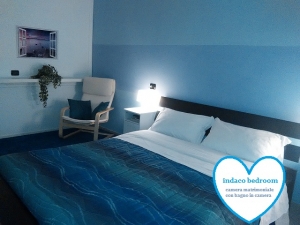 Via Monte Nerone 1 - Porto Sant'Elpidio 63821 (FM)
Porto Sant'Elpidio, Marche
Rates *
| | |
| --- | --- |
| Prices per person: | MIN 35,00 € / MAX 60,00 € |
| | |
| --- | --- |
| Price double room: | MIN 49,00 € / MAX 60,00 € |
| | | | |
| --- | --- | --- | --- |
| Seasonal rates | low | Medium | high |
| | | | |
| --- | --- | --- | --- |
| Prices per day per person: | 35,00 € | 35,00 € | 35,00 € |
* Rates are indicative and are subject to change without notice. Always ask for confirmation to the accommodation.
Description rates
The Bed and Breakfast PAOETTA Nice, clean, bright, new, with new furniture and simple, the Bed and Breakfast can offer PAOETTA hospitality, comfort and relaxation thanks to a large terrace which can be accessed through the rooms of the same.
The B & B PAOETTA is easily accessible being close to the city center, just over a mile from the exit of Porto Sant 'Elpidio, and about 2 Kilometers
Comfort and services
Free parking, complimentary breakfast, terrace, TV DTT, bathroom, towels, hair dryer, iron, ironing board
More information
sea caves Frasassi Zoo Falconara, ancient countries Sant 'Elpidio a Mare
Information and tips
Holiday destinations in the area:
Adriatic Coast
Recommended for a holiday:
Seaside
Adventure sports in the area:
Mountain Bike, Rafting, Trekking, Sailing, Windsurf
Distances as the crow flies:
Porto Sant'Elpidio (1 Km), Sant'Elpidio a Mare (5 Km), Civitanova Marche (6 Km), Porto San Giorgio (8 Km), Fermo (9 Km), Porto Recanati (21 Km), Recanati (22 Km), Loreto (23 Km), Macerata (24 Km), Cupra Marittima (26 Km), Grottammare (30 Km), San Benedetto del Tronto (35 Km), Ancona (44 Km), Ascoli Piceno (45 Km), Jesi (50 Km), Senigallia (66 Km), Fano (88 Km), Pesaro (99 Km)
Negli ultimi 30 giorni 44 viaggiatori hanno visualizzato questa pagina.