Hotel Miramare
Hotel 3 Stars Pineto (Abruzzo)
Hotel 3 Stars Pineto (Abruzzo)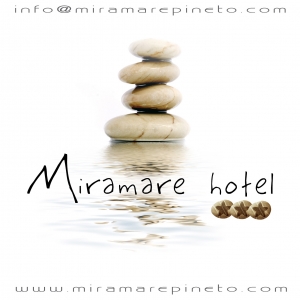 Via Giotto, 2 - 64025 (TE)
Pineto, Abruzzo
Rates *
| | |
| --- | --- |
| Prices per person: | MIN 39,00 € / MAX 85,00 € |
| | |
| --- | --- |
| Price double room: | MIN 44,00 € / MAX 150,00 € |
| | |
| --- | --- |
| Price per week: | MIN 308,00 € / MAX 1050,00 € |
* Rates are indicative and are subject to change without notice. Always ask for confirmation to the accommodation.
Information and tips
Holiday destinations in the area:
Adriatic Coast
Recommended for a holiday:
Seaside
Adventure sports in the area:
Mountain Bike, Paragliding, Quad, Rafting, Skiing, Cross-country skiing, Trekking, Sailing, Windsurf, Climbing, Horse riding
Distances as the crow flies:
Silvi (4 Km), Roseto degli Abruzzi (9 Km), Montesilvano (11 Km), Pescara (19 Km), Tortoreto (25 Km), Alba Adriatica (27 Km), Francavilla al Mare (27 Km), Chieti (29 Km), Teramo (31 Km), Martinsicuro (34 Km), Ortona (38 Km), Vasto (75 Km)
Negli ultimi 30 giorni 73 viaggiatori hanno visualizzato questa pagina.